« As Quebec City shivers in the grip of winter, its ancient stone walls cracking in the cold, Chief Inspector Armand Gamache plunges into the most unusual case of his celebrated career. A man has been brutally murdered in one of the city's oldest buildings - a library where the English citizens of Quebec safeguard their history. And the death opens a door into the past, exposing a mystery that has lain dormant for centuries...a mystery Gamache must solve if he's to apprehend a present-day killer. »
Based on Louise Penny's Best-Selling Novel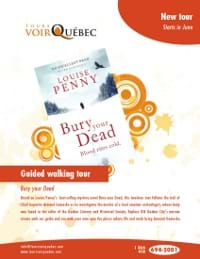 Based on Louise Penny's best-selling mystery novel Bury Your Dead, this two and a half hour long tour follows the trail of Chief Inspector Armand Gamache as he investigates the murder of a local amateur archeologist, whose body was found in the cellar of the Québec Literary and Historical Society. Explore Old Québec City's narrow streets with our guide and see with your own eyes the places where life and work bring Armand Gamache.
« Gamache's excruciating grief over a wrong decision, Beauvoir's softening toward the unconventional, a plot twist so unexpected it's chilling, and a description of Québec intriguing enough to make you book your next vacation there, all add up to a superior read. Bring on the awards. »
- Kirkus Review
The itinerary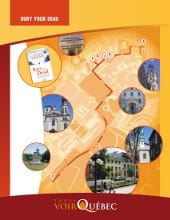 The Bury Your Dead Tour starts at the Quebec Tourist Information Centre (12, Sainte-Anne Street). It stops at the Notre-Dame Basilica, the Literary and Historical Society (Morrin Centre) and the Petit Coin Latin restaurant where participants enjoy a cup of coffee or tea and a slice of sugar pie. It then goes to the Jeanne d'Arc Garden through the Plains of Abraham, ending at the Montcalm monument, on Grande Allée Street. Some portions of this tour are on a moderately ascending path. We do not recommend it for people using walkers or canes.
Please note that the Bury Your Dead Walking Tour is offered both as a scheduled tour at fixed times or as a Private Tour. Ask about our rates for a private tour, offered year round.
Bury your Dead scheduled departures are offered every Wednesday and Saturday at 13h30, from April 26th to October 21st.
We ask a minimum of 2 people to guarantee a departure.
Locate Chateau Frontenac, then walk across the park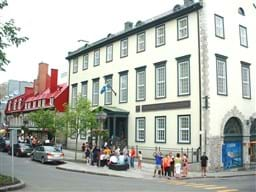 The Bury your dead Tour departs from Tours Voir Québec's sales desk located inside the Quebec Tourist Information Centre (12, rue Ste-Anne) across the park from highly visible Chateau Frontenac. Pay parking is available underneath Quebec City Hall and street parking meters, along rue des Remparts. Bus routes (3, 7 & 11) stops nearby. No need to use your car. Cancellations will be accepted up to 24 hours prior to tour departure.