in accordance with government Sanitary restrictions, we limit the size of groups. If you prefer to be alone with the guide, please consult our
PRIVATE TOUR
.
Take time to discover Old Quebec's history, architecture and culture!

Accompanied by one of our professional local guides, this English only tour will take you through the streets of Quebec City during approximately 2 hours. Your group with a maximum of 12 visitors will enjoy a leisurely descending path, passing by the important sites of Old Quebec. The detailed and comprehensive information provided by our visits will spark interest in anyone who's eager to learn about Quebec's past. This tour speaks both to locals and travelers as it teaches and reminds us all of our history but also helps you get your bearings as you discover the city.
The Grand Tour covers the architecture, the major events and introduces you to Quebec's people by discussing their culture and heritage. It meanders next to Quebec historical sites such as the Chateau Frontenac, Quebec fortifications, Place Royale and uncovers many hidden Quebec sites!
A PERSONNALIZED AND COZY EXPERIENCE
- Small group, maximum 12 participants per guide
- Complies with physical distancing regulations
- Ideal for interaction with your local guide
- Duration 2 hours
- We ask a minimum of 2 adults to guarantee a departure.
Still hesitating or questioning the walking tour of Old Quebec City? Rest assured. The Grand Tour follows a leisurely downhill path from beginning to end. All you need is a good pair of shoes and a thirst to learn! Families even venture with a stroller and manage it safely (although we do recommend a baby carrier, to make your life a little easier)! Besides, The Grand Tour makes room for numerous stops along the way and concludes at the foot of the Funicular (lift). The Grand Tour Circuit
Please contact us if you have difficulty booking or for last minute enquiries.
Locate Chateau Frontenac, then walk across the park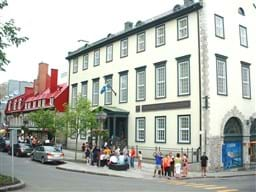 The Grand Tour departs from Tours Voir Québec's sales desk located inside the Quebec Tourist Information Centre (12, rue Ste-Anne) across the park from highly visible Chateau Frontenac. Pay parking is available underneath Quebec City Hall and street parking meters, along rue des Remparts. Bus routes stop nearby. No need to use your car.
Cancellations will be accepted up to 24 hours prior to tour departure. For same day bookings, please call us at 1-866-694-2001
The schedule of the Grand Tour is the following for 2020:
July 1st till October 25th: Everyday at 10:30am or 1:30pm
October 26th till April 30th: 10h30am
There are no tours on December 25th and January 1st.