Take time to discover Old Quebec's history, architecture and culture !

In the company of a professional Quebec guide, this English only Quebec City walking tour will lead you and 14 other participants on a leisurely descending path through all the important sites of Old Quebec. Its content is such that people travelling on their own, in small groups or Quebec City dwellers will enjoy The Grand Tour.
Over the course of approximately two hours, The Grand Tour covers the architecture, the marking events and the Quebec people's history. It meanders next to Quebec historical sites such as the Citadel/Musée Royal 22è Régiment, Chateau Frontenac, Quebec fortifications, Place Royale and uncovers many hidden Quebec sites!
A Convivial Walking Tour
By limiting the number of participants to a maximum of fifteen per guide, The Grand Tour allows for human contact and personal exchanges between Quebec guides and participants during the tour. Also a great thing to do with kids: even children and children at heart will enjoy themselves!
Are you apprehensive about a walking tour of Old Quebec City? Rest assured. The Grand Tour follows a leisurely downhill path from beginning to end. All that you need is a good pair of shoes. Families even venture with a stroller and manage it safely! Besides, The Grand Tour makes room for numerous stops along the way and comes to an end nearby the Funicular (lift). The Grand Tour Circuit
Locate Chateau Frontenac, then walk across the park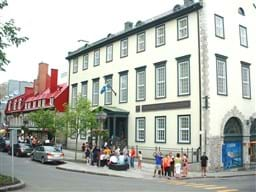 The Grand Tour departs from Tours Voir Québec's sales desk located inside the Quebec Tourist Information Centre (12, rue Ste-Anne) across the park from highly visible Chateau Frontenac. Pay parking is available underneath Quebec City Hall and street parking meters, along rue des Remparts. Bus routes stop nearby. No need to use your car.
Cancellations will be accepted up to 24 hours prior to tour departure. For same day bookings, please call us at 1-866-694-2001
The schedule of the Grand Tour is the following:
*Between April 1st and May 14th: 10h30; 1h30
*Between May 15th and June 26th: 10h; 10h30; 11h and 1h30
Between June 27th and September 5th: 9h30; 10h; 10h30; 11h; 12h; 1h30 and 3h30
Between September 6th and October 25th: 9h30; 10h; 10h30; 11h and 1h30
*October 26th to March 31st: 10h30.
*Whenever cruise ships are in town, we offer a departure at 9h30.
Between November and May, we ask a minimum of 2 people to guarantee a departure. Please call us or book online at least 24 hours ahead in order to do so. Enquire for last minutes. There is no tours on December 25th and January 1st.